Global market outlook
Fragrances are derived from a mixture of essential oils or aroma compounds used to provide pleasant scent to the human body, animals, food, objects and any living space. The Fragrances segment includes the consumer market for perfume and Eau de Toilette and any fragrances which cover normal body odor. The fragrances and perfumes market does not include room scents or deodorants and antiperspirants. Fragrances and perfumes have improved the grooming habits of individuals and have become essential products of day-to-day life.
In 2020, the Beauty & Personal Care market generated a total revenue of US$471.9 billion worldwide according to Statista. At 48%, Personal Care was the largest segment of the Beauty & Personal Care market with US$224.3 billion in revenues in 2020. The Fragrances segment had a market share of 10% and its revenue amounted to US$46.5 billion in 2020.
Key growth factors
The premium segment is expected to grow faster than the mass market segment according to Euromonitor, retaining the majority of sales in most markets. Though, in Latin America and Eastern Europe the mass market is growing faster. Premium fragrances continue to drive the growth in developed countries in North America and Europe, with a decline in the value of mass fragrances.
Increasing disposable income in countries such as India and China is expected to drive the global market as this allows the customers to spend more on luxury products among which fragrances play key roles.
The growth of the fragrances and perfumes market is primarily influenced by unpredictable and continuously changing fashion trends. Thus, key market players are focusing on developing exciting, unique, and new fragrances to attract different consumer groups across the world.
Consumers are also paying more attention to the ingredients in their skin creams and makeup, and fragrances are no exception. Which is also opening more growth opportunities for brands that are bringing natural and organic products to market.
Major markets globally: by region and by country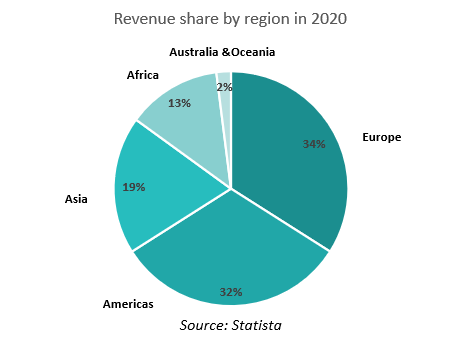 Europe is the biggest regional market globally for fragrances and perfumes with a market share of 34% of worldwide sales. The Americas are close behind with a 32% market share.
However, it is consumers in Switzerland that spend the most on perfumes on a per capita basis. Developed and high-income countries are the biggest spenders on these types of products.
The fragrances and perfumes market in the USA has the biggest per country revenue in the world, generating a revenue of around 8.4 billion U.S. dollars. This put them ahead of the Brazilian market which generated around 4.6 billion U.S. dollars. The third biggest market by revenue was France.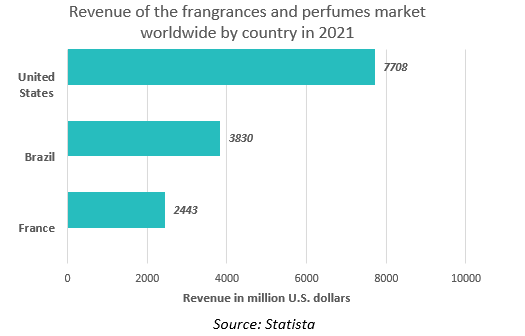 Major industry players
As presented by Statista, the major manufacturers of fragrances and perfumes are Givaudan, Firmenich, IFF and Symrise which mainly serve as suppliers for brand manufacturers. In the end consumer market, both brands of large cosmetics manufacturers, as well as those under licence from fashion brands are well present.
Companies compete on different factors, including product offerings, price, ingredients, and marketing activities, to gain a competitive advantage in the market. Some of the other prominent players in the market are Shiseido Co. Ltd, Revlon Inc., Chanel SA, Hermès International SA, and Avon Products Inc.
Euromonitor contemplates that those traditional brands (especially luxury designer brands) will need to adapt to face the growing competition from niche and indie players. For instance, Skylar, an American brand, is bringing vegan and free-from fragrances to consumers, composed of natural oils and organic sugar cane alcohol. Snif is another American example of an indie on a mission to modernise the fragrance industry — with perfume sold online. In addition to proposing innovative ideas such as genderless scents, vegan and cruelty-free. This brand uses a try-before-you-buy model allowing customers to try samples of fragrances and only paying for the ones you decide to keep.
COVID-19 impact
In their annual report, L'Oréal uncovers that the consumption of beauty and personal care products, including fragrance and perfume, was strongly impacted by the closure of millions of points of sale (specialty stores, perfumeries, department stores, airport stores, etc.), which caused a real crisis of supply, rather than demand, with consumers temporarily unable to purchase products and services.
A 2020 McKinsey report points to the beauty industry, including the fragrances and perfumes market, being one of the hardest hit during the pandemic. Given the realities of working from home, physical distancing, and mask wearing, it has become much less important to wear makeup and fragrance. For luxury brands, McKinsey highlights that 2020 saw 55 and 75 percent declines in cosmetic and fragrance purchasing, respectively, versus a year ago.
The COVID-19 crisis is likely to accelerate trends that were already shaping the market, such as the rise of the global middle-class population and the use of e-commerce. Online distributors are recording an increased interest, as home-bound consumers explore retail alternatives. Some beauty product brands and retailers with inventory and shipment operations are reporting e-commerce sales twice as high as their pre-COVID-19 levels. For instance, Sephora's US online sales are reportedly up by 30% versus 2019.
Future trends
Industry experts, NPD, in their 2021 Fragrance Consumer Study, found that most U.S. consumers who wore fragrance less often in 2020 have returned to their normal usage. Nearly one-third of consumers are buying fragrances and perfumes for themselves more often these days, and three out of four consumers feel that fragrance helps lift and enhance their moods or bring back memories of happy times, places, and experiences. This sentiment is stronger among Millennials, who are growing even more engaged with the category and are willing to pay more for scents they really like.
Using Prime Target's social media analysis tools, we have analysed the volume and sentiment of discussions on Twitter surrounding various trends in the fragrances and perfumes market. This analysis was conducted on some of the major perfumes markets identified previously (the USA, Brazil, France, Switzerland and India) and was focused on the following keywords: "Natural perfume", "Organic perfume" "Vegan perfume", "Sustainable perfume" and "Cruelty free perfume".
As seen below, it seems that the keyword "Natural perfume" had the highest volume of use among the analysed keywords, highlighting consumers' increasing interest in perfumes with natural formulas. "Organic perfume" also saw a high volume of use confirming consumers are becoming more concerned with the ingredients of their beauty products. Looking at the volume of use of "Vegan perfume", "Sustainable perfume" and "Cruelty free perfume" further reinforces the establishment of a sustainable and clean beauty trend. It is important to note that the discussions surrounding all these keywords were overwhelmingly positive. Which means that these trends are highly appreciated by consumers and are often brought up in a positive context in Twitter discussions.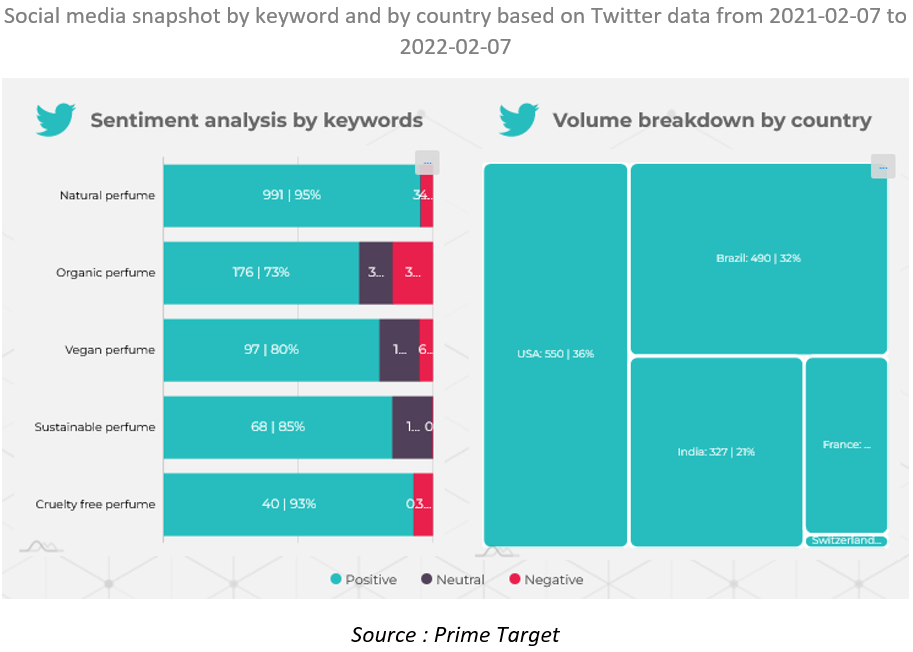 The USA and Brazil saw the highest volume of use for the analysed keywords. They were followed by India and France which also had a high volume of use, while results for Switzerland were relatively insignificant.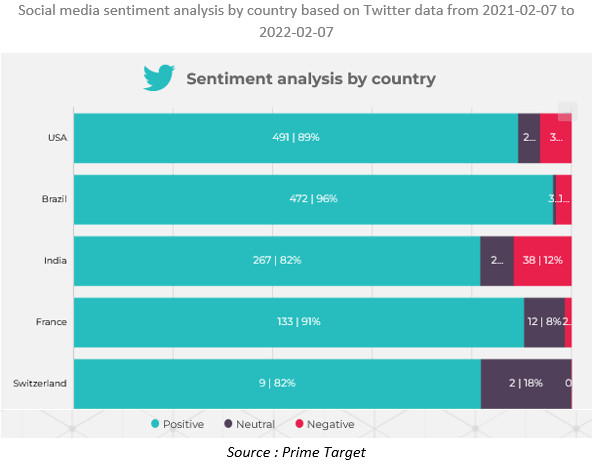 The sentiment analysis shows that the discussions surrounding the analysed keywords are mostly positive in all five countries. This is a good indication that the trends for natural and sustainable perfumes are not restricted to a specific geographical area, but are in fact global.
As climate change and environmental protection are more prevalent than ever, consumers are continually looking for ways to make a positive impact. Mintel finds that the focus on clean beauty and transparency in formulations due to COVID-19 will result in new natural and synthetic fragrance formulas. Brands are now incorporating natural and sustainable claims into their narrative as they begin to alter their practices to incorporate more responsible sourcing and sustainable packaging to appeal to conscious consumers.
Consumers are also increasingly concerned with clean-label products, as they continue to seek out knowledge regarding product ingredients and their effects on the body. One of the main focuses of the fragrance industry going forward will be to highlight how synthetic and biotechnological ingredients can be sustainable by avoiding the depletion of natural resources while also being safe for long-term use.