Global market outlook
As reported by Statista, the fashion eCommerce market segment includes the commercial B2C sale of apparel for men, women, and children. This includes the sale of apparel, footwear, as well as accessories via a digital channel.
The main sales channels in this market segment include internet retailers such as Amazon, and online fashion retailers (Asos, Zalando, Nordstrom) or dedicated category retailers (eBags, zara.com, clarks.com, samsonite.com). The purchase and resale of used fashion articles are not included in this market segment.
Fashion is the second largest B2C eCommerce market segment after electronics. Statista estimates its global size at US$769 billion in 2023. The market is expected to grow further at 9,45% per year and reach a total market size of US$1 103 billion by the end of 2027. Apparel is the largest category in fashion eCommerce with a revenue of US$426 billion in 2023 representing 55,4% market share of the overall fashion eCommerce market.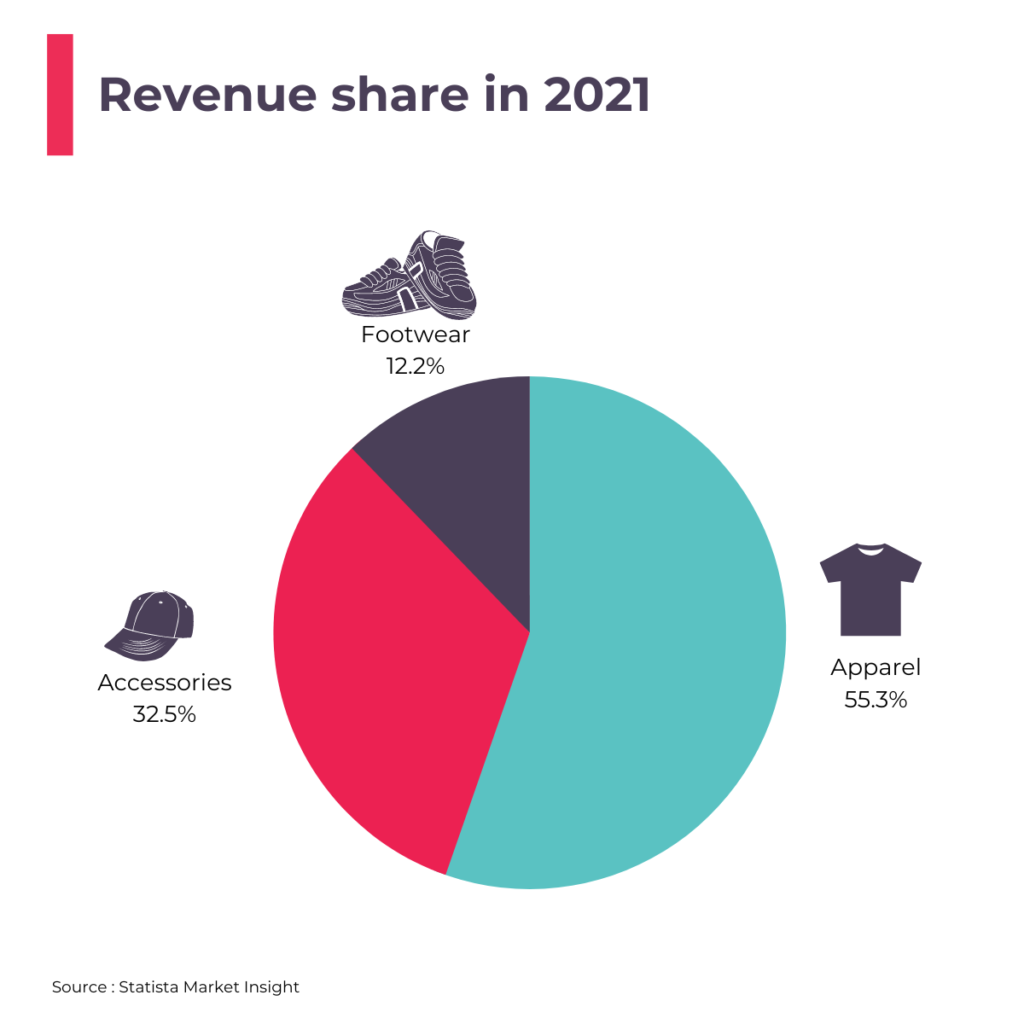 Key growth factors
Fashion is one of the most mature eCommerce segments. The idea of distance shopping for fashion items is not new. Long before the internet era, mail order catalogs had already become highly popular. But the internet brought fashion shopping to a new level. The broader product range of different colors, sizes, styles offered by online shops has also accelerated the growth of fashion eCommerce. The same could be said for advances in eCommerce services and platforms, which began offering improved delivery services and even same day delivery in some cases. Adopting a hassle-free return process has also tremendously encouraged consumers towards online shopping in the fashion segment.
Most online fashion shops offer choices and services that customers cannot find in ordinary brick-and-mortar businesses. First and foremost, they inspire customers by providing content and personalized suggestions based on the browsing history or previous purchases.
It is no secret that mobile shopping is one of the major driving forces in this market. The steady increase in smartphone penetration has ensured strong growth rates in mobile shopping. With better and easier online services, more customers shift to mobile research. Social networks like Instagram and TikTok, where social influencers reach huge audiences and try to generate authentic and appealing inspiration and recommendations, are mostly used on mobile devices as well.
Social influencers play a big role in online fashion retail. Fashion blogs and social media platforms like Instagram reach a huge audience, and product placement has proved itself able to skyrocket brands and reach large following with unpreceded speed.
Major markets globally
Asia is the biggest regional market globally for fashion eCommerce with a market share of 49% of worldwide sales. China is a leading market in this region in fashion eCommerce, as its market has already grown to a total revenue of US$266 billion and was by far the largest online fashion market in 2023 according to Statista. The increasing disposable income, the lack of well-established stationary retail in the country and high appetite for luxury fashion have a significant impact on the market. China's online fashion sales are expected to grow 9.3% CAGR by 2027 resulting in a projected market volume of US$368bn.
Asia is followed by the Americas and Europe when it comes to fashion eCommerce revenue. In Europe and the U.S, Internet penetration is already very high, which means growth is mainly driven by the continuous shift of the existing customer base from offline to online purchases. The U.S. market is valued at US$155.6 billion in 2020 and is expected to reach US$239.5 billion in 2025. The European eCommerce fashion market as a whole had a revenue of US$130.8 billion in 2020.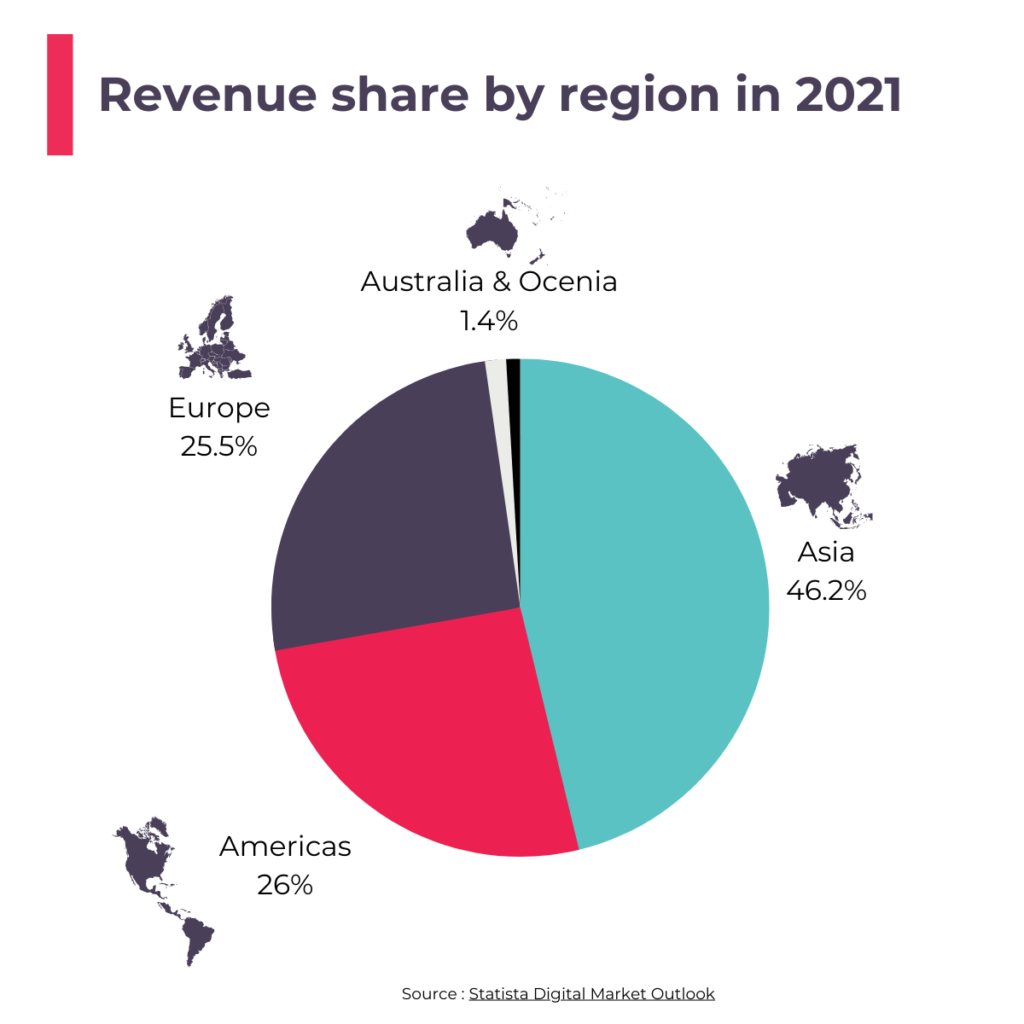 Major industry players
Statista presents the fashion market landscape as divided into brand marketplaces (Zalando, Zappos), design shops (Net-A-Porter), the online presence of ordinary retailers (H&M, Gap), generalists (Amazon), discount clothing shops (boohoo) and direct-to-consumer sellers (Nike).
Relevant players in the U.S. market are online shops of the retailers Gap and Macy's as well as pure online players such as Amazon and Shein. Big online players in the field of fashion in Europe are Zalando, Vente Privee, Asos, the Otto Group and H&M.
Some services are trying to offer a more unique experience in the crowded space of fashion eCommerce. A service that goes beyond standard online shopping is curated shopping, offered by companies like Outfittery, where individual outfits are put together by personal style advisers. This Berlin based start-up was founded by Julia Bösch in 2012, who previously worked as Head of International Business Development at Zalando as reported by Forbes. The company now is present in eight European markets and considers itself among the largest personal shopping services in Europe.
The U.S. subscription-based company Stitch Fix goes one step further and applies a sophisticated recommendation algorithm to send its customers packed boxes with items for special events or new styles that match their individual taste on a regular basis. CNBC has reported that the service counts nearly 4.2 million active clients in 2022 and hopes to continue to expand its customer base.
Covid 19 impact
In early 2021, the EY Future Consumer Index , which has surveyed thousands of consumers since the early days of the pandemic, found that 80% of U.S. consumers are still changing the way they shop. Sixty percent are currently visiting physical stores less than before the pandemic, and 43% shop more often online for products they would have previously bought in stores. One of the most significant effects of Covid-19 is the realization that, for many of us, geographical location has become less relevant so long as there's an internet connection.
The coronavirus pandemic wreaked havoc on the last few years' fashion sector. When lockdowns were enforced globally in March 2020, 27% of US consumers said they planned to spend "somewhat" or "a lot" less on luxury and fashion items than they had budgeted prior, as found in the BCG 2020 consumer sentiment survey.
Despite that, brands like Zalando reported a 32% to 34% growth in gross merchandise value during the second quarter of 2020. Shein also saw huge growth during this period. Thanks for its entirely digital sales model, Shein saw its popularity soar during the pandemic as more people turned to online shopping. In 2020, Shein's global sales doubled to $10 billion as highlighted by an article on Observer.com, about half that of Inditex Group (Zara, Bershka, Massimo Dutti, Stradivarius). In May 2021, Shein overtook Amazon as the most downloaded shopping app in the U.S.
Future trends
While the shift from offline to online retail is expected to continue, cross-channel services are also increasing. An example of seamless integration of online and offline channels is click & collect.
Fashion eCommerce is quickly moving from a simple combination of online and offline stores to offering an integrated shopping experience that unites mobile shopping on the go, online shops filled with extra content and new store concepts. This is an arrival of a new kind of retail, where consumers interact with a brand or product across a number of platforms.
In the mass market, well-known brands and online shops with a strong customer base offer own-label collections, this is the case for Amazon and Asos. This combines two advantages: differentiation from other vendors and higher margins thanks to the lower costs. The purchasing power is shifting from the U.S. and Europe to the markets in China and Southeast Asia, and established eCommerce players from the West are looking out for business acquisition targets in those markets.Traditional brand loyalty has diluted due to a higher market fragmentation, and retailers are acknowledging the importance of community building and customer engagement. Creating a dialog with the customer beyond sending out newsletters and encouraging interaction on social networks helps to build loyalty.
Purchasing habits are also shifting off the back of the pandemic. A 2020 Mckinsey survey across more than 2,000 UK and German consumers, found that some 65% of european customers plan to purchase more durable fashion items, with 71% planning to keep the items they already have for longer. The fashion resale market is booming for this reason, growing 11 times faster than traditional retail and tipped to reach a $77 billion valuation in the next five years.
Patagonia is one apparel brand with sustainability rooted in its brand values. The retailer actively campaigns for environmental causes, and demonstrates its commitment to sustainability with its Worn Wear program. Shoppers are encouraged to buy and sell used items instead of buying new.
Using Prime Target's social media analysis tools, we have analyzed the volume and sentiment of discussions on Twitter surrounding various trends in the fashion eCommerce market. This analysis was conducted on some of the major fashion eCommerce markets in various regions (the USA, the UK, Germany, India and Australia) and was focused on the following keywords: "sustainable fashion eCommerce", "sustainable online shopping", "fashion online resale", "ethical fashion eCommerce" and "sustainable online fashion brand".
As seen below, it seems that the keywords "sustainable online shopping", "fashion online resale" and "sustainable fashion eCommerce" had the highest volume of use among the analyzed keywords, highlighting consumers' increasing interest in shopping online for sustainable fashion products. This further reinforces the establishment of a sustainable fashion trend in eCommerce. It is important to note that the discussions surrounding all these keywords were overwhelmingly positive. Which means that these trends are highly appreciated by consumers and are often brought up in a positive context in Twitter discussions.
Social media snapshot by keyword and by country based on Twitter data from 2021-05-20 to 2022-05-20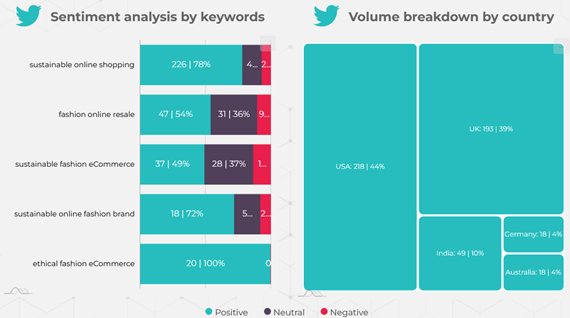 The USA and the UK saw the highest volume of use for the analyzed keywords. They were followed by India, Germany and Australia.
The sentiment analysis shows that the discussions surrounding the analyzed keywords are mostly positive in all five countries. This is a good indication that the trends for ethical and sustainable fashion eCommerce are not restricted to a specific geographical area, but are in fact global.
Social media sentiment analysis by country based on Twitter data from 2021-02-07 to 2022-02-07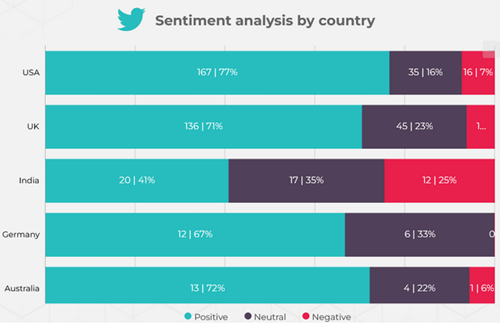 Another trend that is gaining traction is related to social commerce, which relates to the use of social media platforms as an eCommerce medium. While online marketplaces and shopping sites are conceived solely as shopping spaces, social networks provide an opportunity for brands to forge a community. Social commerce allows for the buying and selling of goods directly within a social media platform.
As internet personalities engaging with their online communities, influencers are leading the way in this regard. As a result, eCommerce companies are increasingly collaborating with them to market their brands. In 2020, during the lockdown over the coronavirus pandemic, influencers found in livestreaming a way to engage with their followers in real time. According to a survey presented by Statista and conducted that same year, up to 45 percent of internet users in India frequently watched influencers' livestreams, and 83 percent were likely to buy from those they followed.
SME perspective
With the pandemic accelerating ecommerce growth, companies with no online store struggled to benefit from this trend. SMEs that relied mostly on physical distribution channels have been playing catchup, desperately trying to reconnect with their audience. Many small brands develop their online shopping presence through third party eCommerce platforms such as Amazon, Asos and Zalando. For some others, developing a proprietary eCommerce channel through their own website is crucial to put more value on their brand and to build more trust with their customers.
For some more established businesses, the pandemic has proved an opportunity to grow. BAM Bamboo Clothing has been in business since 2006, selling bamboo fabric clothes for fitness and leisure through its website directly to consumers. BAM saw a 50% growth in customers during the pandemic, according to the company's managing director Ryan shanon's interview with ComputerWeekly. The core of BAM's business is its website, which is based on WooCommerce, an open-source ecommerce plugin for WordPress, and enhanced with various plugins.
As the future of fashion eCommerce is expected to continue shaping the fashion industry, SMEs should seize the opportunities offered by the unstoppable growth of online shopping. eCommerce and understanding exactly what consumers want will only become more essential for small businesses in order to stand out in a crowded retail landscape. It can also allow small fashion brands to expand their market reach beyond a physical location.