International Franchise Association mentions as the first modern day franchisor Martha Matilda Harper, a Canadian-American who began to franchise the Harper Method Shops in 1891. Headquartered in Rochester, N.Y., she included in her hair care franchise many of the elements we have come to expect in a modern commercial franchise system including initial and continuing training, branded products, field visits, advertising, group insurance and motivation. Harper started her salon business in 1888 and grew the franchise system to more than 500 salons and training schools at its peak, with the last location closing in 1972.
In France, the first franchisor mentioned by the French Franchise Association is Pingouin brand. Jean Prouvost, who ran Lainière de Roubaix (Pingouin brand), has set up in 1930's a distribution network. Independent retailers were bound by a contract guaranteeing them exclusivity of products, geographical area and support. Thanks to Pingouin wool, franchising was born in France. Similar to Harper in the USA, in less than 10 years, Pingouin established a network of 350 franchisees. The brand still exists but changed hands and is traded by HappyWool and is sold and known worldwide.
Today, franchise brands such as Mcdonald's, Starbucks, Leonidas, Paul, Mango, Subway and many others are to be found in every corner of the globe. But what drives the internationalization of franchise networks? In this article, you'll learn about the advantages of internationalizing a franchise network, and the key steps to making it successful in international markets.
Franchises: the benefits of internationalization
Increase your sales
Many companies decide to go international in order to increase their sales. This is the case when a franchise network on the national market is sufficiently developed, the market is saturated and they have only a limited market share left to conquer. Acquiring new foreign customers provides a new growth lever to ensure your long-term development. Today, some franchises are globalized, with more international sites than national ones. According to McDonald's annual report, the company had 42 275 restaurants worldwide by 2021, including 13 438 in the United States, where its head office is located.
Controlling quality and brand image internationally
Franchising is a form of organization that guarantees a high degree of control by the franchisor, in terms of quality and brand image. This degree of control makes it possible to approach international markets with guaranteed quality standards. Coca Cola has successfully used the franchise system to guarantee quality standards in foreign countries, by shipping concentrated syrup to its franchisees and requiring them to follow a strict process and precise formulas during bottling, in order to control the quality of their product in distant markets and expand rapidly.
By expanding into international markets, your company can improve its brand image. Opening franchises abroad increases your visibility and lends credibility to your brand. It's also an excellent way for you to attract future franchisees.
Limit operating costs
The franchising network minimizes the franchisor's initial investment, enabling faster profitability than when setting up internationally through a subsidiary. This form of organization also makes it easier to adapt pricing policies to local living standards. In fact, recruiting staff and sourcing locally helps reduce costs. In contrast to exporting, internationalizing a franchise means limiting transport costs. For these reasons, the first commercial franchises were created in the manufacturing, automotive and beverage sectors. Beverage companies such as Coca-Cola faced similar challenges, as the high cost of transporting soda in glass bottles made the bottling of soft drinks a localized industry.
Gain market knowledge and limit dependency risks
One of the advantages of having a clientele all over the world is the opportunity to get to know the industry as a whole. You'll be able to get real-time updates on market trends and changing consumer preferences. These trends can help you gain a competitive edge by adapting more quickly to market developments.
For example, the PAUL brand, with over 750 stores and restaurants in almost 50 countries, is proud to embody the French bakery all over the world. The first international franchise opened in Japan in 1989. Thanks to its worldwide presence, the company is able to follow the evolution of the industry, which is a global one, in every country and understand new trends, competitors of any nationality or changes taking place or to come. At the same time, this strategy enables PAUL to reduce its dependence on a single market or a few key countries.
How do you target your future international markets?
Choosing the right country for your future franchises is crucial. It has a direct impact on your future results. If market selection is not carefully thought through, you risk wasting years and valuable resources in a country that won't bring you the expected return on investment. To target your international markets, you need to carry out market research and evaluate potential markets, risks and benefits. Research is the basis of successful market selection. Analyze market size, growth potential, competitive intensity and customer needs.
In addition, find out about legal requirements and any political or cultural challenges you may encounter. Once you've assessed the risks and benefits of each potential market, make an informed decision about which countries to develop your franchises in. Finally, cross-reference this knowledge by exchanging views with local experts, or by visiting the site to confirm your findings.
How do you set up your franchise internationally?
If your franchise concept has been successful in your local market, it's legitimate to try to export it abroad. However, the choice of how to enter the new market is not a simple one. The three main modes of entry: Master-Franchise, Direct Franchise and Joint-Venture.
Master Franchise
With master franchising, you delegate to a master franchisee the responsibility of creating a local network in a targeted country or region. This method of entry offers many advantages: the master franchisee has a good knowledge of the local culture and consumer habits, as well as of current legislation. This method allows you to limit your costs, with fewer staff dedicated to development. The major drawback is the risk of loss of control and identity due to the strong autonomy of the Master Franchisee. The Wingstop fast-food franchise has gone international, signing an agreement with a master franchisee to establish the brand in South Korea. The aim is to open some sixty restaurants in the country over a ten-year period, with a potential of 200 to 250 establishments, according to Nicolas Boudet, Wingstop's President of International Operations.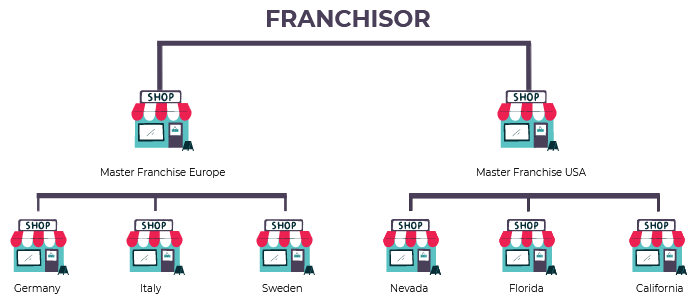 Direct Franchise
The other option is to select a future franchisee. In this case, you control your international development by dealing directly with each new franchisee. This is the entry mode that guarantees a high degree of control, but also a strong commitment of your resources. This entry mode implies having an in-house team dedicated to international marketing, sales and logistics issues. You'll also need local partners to help you with market research, finding business premises and providing legal advice. It also involves selecting and identifying future franchisees.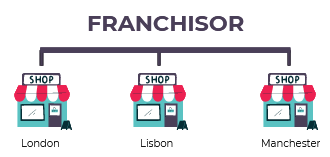 Joint-Venture
A joint venture is the creation of a master franchise with a local partner. The main advantage is to create a closer relationship with your local partner, who becomes your associate. The degree of control depends essentially on the percentage you hold in the company's capital. What's more, your partner is familiar with the local market and will facilitate your local development. In fact, your partner will have the opportunity to develop a network of partners, benefiting from the brand's reputation. The major drawback is the franchisor's initial investment, which can be substantial depending on the level of control and commitment he wishes to obtain.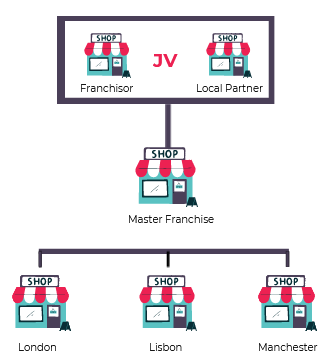 Search for and identify future franchisees
Franchising is defined as a contractual agreement between two independent parties. For international expansion, this necessarily means finding a foreign partner. As partnership is the very essence of franchising, the selection of the right partner is a key factor in your success.
Your search for partners will be easier or harder depending on the number of incoming requests you receive. Incoming requests will be more numerous if your company is well known abroad, thanks to tourism for example. Also, your referencing plays a role in how easy it is for potential franchisees to find your brand online and submit a franchise application. The criteria established for franchising abroad can vary from country to country, so you'll need to adapt to suit local contractual habits for opening a franchise.
There are many ways to identify potential franchisees. For optimum targeting, we recommend joining regional franchise associations and federations. The International Franchise Association, like many local associations, organizes annual conventions. This is your chance to meet franchisors, franchisees and potential prospects.
A local consultant can become a valuable ally by consulting his database of qualified investors. He or she can contact them to present your company as a new opportunity. Sometimes, executive search services can help you find a franchise development manager who can help you convince future investors.
Regulations and brand protection
Regulations
Once you've selected your market, take the time to study the regulations in force and how they might apply to your business. Franchising involves a number of specific legal aspects linked to contracts between franchisors and franchisees. In the international arena, the two signatories are not always governed by the same law, so you need to choose the law applicable to the contract and the competent jurisdiction to deal with any disputes.
Don't forget to add specific clauses to take account of the international nature of your contract. In the case of direct international franchising, for example, you'll need to define the contractual currency, the language of exchanges and the media.
Brand protection
Brands are a key element in the franchising system. Franchisors give franchisees the right to use their brand name, trademark and know-how. As a result, securing your brand is strategic to your development. When your brand moves into a foreign market, this security becomes even more delicate, given your lesser knowledge of the market. First of all, you need to understand what data and information is confidential to your company and the industry in which it operates, so that you can clearly express the degree of confidentiality in the franchise agreement. We advise you to systematically call on local advisors with specific knowledge of the local legal system.
Key Takeaways
There are many advantages to internationalizing a franchise network, provided you make the right strategic choices. This strategy involves selecting the market with the greatest potential, as well as the mode of entry to maximize your chances of success. Your mode of entry has a direct influence on the degree of control you want, and defines your initial investment rate. Finally, keep in mind the two key elements that make up your franchise abroad: your partner and your brand. Have a strategic vision when choosing your partner, and protect your brand legally so that these two strategic elements of your business can create synergy on international markets.

Prime Target can accompany you in your international business project, and assist you in market potential evaluation. Prime Target's Market Ranking Report can help you evaluate the market potential of 5, 10 or 20 countries simultaneously, and identify new export markets with the highest potential. This comprehensive and personalized Market Ranking Report can minimize risk, saving time and money, as well as identify new business opportunities abroad.