International e-commerce has been growing rapidly in recent years. With access and adoption of the Internet, and with nearly five billion Internet users around the world today, the number of people shopping online continues to grow. By 2022, according to Statista, the global e-commerce market revenue is expected to reach $4.23 trillion. This revenue is expected to grow at an annual rate of 11.58%, bringing the market value to $5.88 billion by 2025.
China is the country that generates the most revenue in this sector, followed by the United States, while African countries generate the lowest e-commerce revenue.
Online and offline retail companies are moving toward multi-channel strategies and constantly reinventing the way we shop. Expectations are rising rapidly as customers discover more functionalities, whether it's product personalization, mobile-optimized search, fast checkout processes or easy delivery.
In this article, we will see how to take advantage of e-commerce to develop your exports and we will pay attention to the adaptation of the commercial strategy to the local market. Furthermore, our objective is to highlight the challenges to overcome in order to get the full benefits of exporting through e-commerce.
Marketplace and e-commerce platforms : main differences
E-commerce sites and marketplaces are the two most used options by companies to sell their products or services online abroad.
What is an e-commerce platform? It is an online application where the two parties, sellers and consumers, come together. On the application, the consumer can discover, explore, choose products and proceed to the payment to make the purchase. The company can sell its products or services in an online store. The most popular e-commerce platforms available on the market today are Shopify, Wix, BigCommerce, Magento, WooCommerce etc.
What is a marketplace? It is an e-commerce website that facilitates purchases by grouping together products or services from different companies through a single interface. It is a showcase of products from different companies, allowing transactions between consumers and sellers. Some examples of marketplaces are: Amazon(USA), ebay(USA), Taobao(China), Tmall(China) etc.
Each solution has its advantage: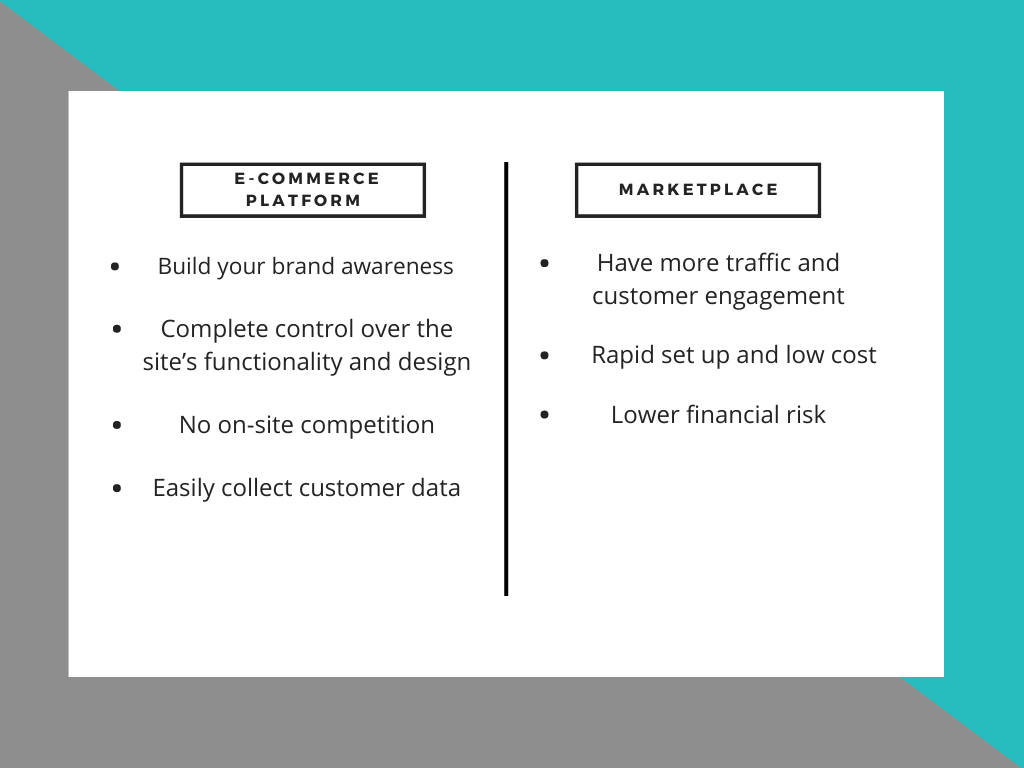 E-commerce platforms allow for better brand management, which is possible thanks to complete control over the design and functionality of the site. These platforms are specific to each company, there is no intra-site competition as it is the case on a marketplace. Having control over your platform also allows you to collect data on the consumption habits of customers in your different export countries and to adapt your next marketing campaigns.
In contrast, marketplaces allow you to generate more traffic and benefit from the commitment of their foreign customers. One of the strong points of this type of platform for your exports is a simple and fast implementation. Amazon is probably the best known marketplace in the world with, in the six months preceding May 2022, nearly 5.6 billion direct visits via a computer to amazon.com.
We strongly recommend before choosing to analyze the state of e-commerce in the countries where you want to sell online.
Several solutions exist:
Webretailer : Allows access to numerous data and articles including the world ranking of the best marketplace.
Ecommerce Europe: it represents more than 100,000 companies that sell online, and provides regular access to reports on e-commerce in Europe.
We Are Social & Hootsuite provide reports on digital trends, including e-commerce on a global level.
Adapt your strategy to the local market
Pricing
The customer's perception of the price is just as important as the price itself. Therefore, you need to think about adapting your pricing strategy when you internationalize.
For example, Americans, Australians and Norwegians respond better to prices that end with a nine (e.g., $58.99). Conversely in Japan, Hong Kong, China or Brazil products sell better when the price ends with zero ($27.00).
Furthermore, exchange rate fluctuations might have a negative impact on your future profits. The vast majority of international online retailers, to maintain price consistency, prefer to charge a flat rate. It is still important to display prices in local currency, as many potential customers will abandon their purchases if the payment is displayed in foreign currency.
Payment
The payment methods used from one country to another can be different. These differences are also present when it comes to paying online on an e-commerce site.
According to Statista, in 2020, the credit card was the most popular payment method on e-commerce sites. In Singapore and Turkey, card payments account for 45% and 57% of total online payments respectively. In contrast, the preferred payment method in Malaysia is bank transfer (28%). To adapt to local preferences, a multitude of payment methods are available (Google Wallet, CB, Lydia, Paypal, ApplePay, PayPass etc).
Customer service
Your international and online customers are as important as your regular customers and you should not forget to offer them a quality service adapted to their needs. Adapting exchange and return policies is essential to successful internationalization through e-commerce. For example, throughout the European Union, consumers who buy a product online have 14 days to cancel their purchase after receipt. Return logistics must also be put in place, which can be complex and costly. Many e-commerce companies prefer to issue refunds rather than exchanges when it comes to overseas deliveries.
In the same line, in order to deepen this subject I suggest you watch our webinar : Understand your international customers . You will hear as well from other businesses how they developed globally and managed the cultural differences during their international growth.
Logistics and arrival fees: two key elements to reach your final destination
In e-commerce you face many costs to reach your customers' front door. Taxes, exchange fees, insurance premiums, customs duties, shipping and handling fees, etc. Anticipating these costs that are added to the manufacturing or acquisition cost allows you to limit the impact on your break-even point.
In some countries, transportation costs are advantageous but high arrival costs increase the bill. The Organization for Economic Cooperation and Development (OECD) has estimated that customs duties and other border barriers can add up to 24% to the price of goods sold. Exceptions exist, such as in Australia where there exists a tariff threshold making sales in that country possibly more advantageous than in others. Also, be aware of your competitiveness by comparing the actual cost of your product with the price of products manufactured locally.
Adapt your international shipments to the specific logistics of each country. In France, many streets are too narrow for delivery trucks, so packages are often made available at relay points (distribution centers). In Canada and Australia, packages sent to rural areas may require additional time and cost because deliveries to these areas are less frequent.
Offering multiple delivery options to customers increases sales. DHL surveyed its customers and found that companies offering premium delivery options and times are growing 60% faster than average, especially in the fashion and technology sectors.
This choice can help you stand out from the competition. In India, customers want a guaranteed one-day delivery, an extremely short time frame that only the current leaders, Flipkart and Amazon India can offer, a clear competitive advantage.
Do you choose to pass on the cost of delivery to the customer or absorb it? Delivery costs and delays are often the main reason for shopping cart abandonment in e-commerce. Many companies choose to offer a sliding scale of shipping costs or free shipping above a certain purchase amount, while others prefer to apply fixed shipping costs. The important thing is to take into account this choice in its strategy and adapt it to the local habits of consumers.
Other cross-border e-commerce challenges
Global view, local marketing
Although your business is going global, your marketing must adapt to local demand. For each new market, adapting certain marketing elements remains essential. Adaptation starts with the translation of your products/services and website. You also need to take into account consumer factors such as local holidays and events, climate, culture and political sensitivities.
Fraud
Cybercrime is an element not to be neglected when expanding internationally. E-commerce websites are key targets, with a multitude of monetizable customer data: payment data, emails and loyalty accounts. The main risks are data leakage, blocking your website for ransom or deleting your customer data. Simple things can be done to combat this type of attack, such as imposing complex passwords, two-factor authentication, regular data backups and updating your CMS (Content Management System) and plug-in.
Language
According to a study by Common Sense Advisory, it was found that 40% of digital customers do not prefer to purchase a product in another language, while 65% of customers prefer content displayed in their own language. Correctly translating your website and products/services into the language of the target export country is crucial to take advantage of market potential. Today, there are many translation tools and it is possible to call upon a sworn translator for more adaptation and precision.
Market selection
E-commerce allows you to sell your products all over the world, but few products are sold everywhere. The solution? Prioritize certain markets in your international development strategy. Logistical challenges, customs duties, exchange rate variations, evaluation of potential demand are elements to take into account when selecting priority export markets. This selection will allow you to focus your marketing, translation and research efforts on markets with high potential for your company. I suggest you read our article: How to evaluate international market potential? Furthermore, our Market Ranking Report can help you evaluate the market potential of 5, 10 or 20 countries simultaneously, and identify new export markets with the highest potential.
Key takeaways
In an increasingly connected world, the internationalization of companies is becoming a necessity. E-commerce has facilitated and encouraged this international development with the idea of a global market, accessible from any country. This unique market is far from perfect and challenges await you in order to take advantage of all the potential that e-commerce can offer you for the export of your products or services. Choosing a marketplace or e-commerce platform, adapting your strategy to the local market, setting up a supply chain and selecting markets with higher potential are key elements to take advantage of the international potential that e-commerce offers.
Prime Target can accompany you in your international business project, and assist you in market potential evaluation. Prime Target's Market Ranking Report can help you evaluate the market potential of 5, 10 or 20 countries simultaneously, and identify new export markets with the highest potential. This comprehensive and personalized Market Ranking Report can minimize risk, saving time and money, as well as identify new business opportunities abroad.