As defined by Statista, the skincare market includes cosmetic products designed for the care and protection of the skin. This definition covers all types of creams and lotions for face, body, hand and foot care as well as sunscreen and baby and child skincare products. The skincare industry is part of the beauty and personal care segment.
Compared to the make-up segment, skincare was resilient towards the Covid-19 crisis. During this period, the market only suffered a change in its revenue of -6% change compared to the cosmetics sector where we observed a change in revenue of -20%. During the various lockdowns, consumers prioritized self-care over glam and invested more on their skincare routine than their makeup. The emphasis is now put on the inner self, authenticity and wellness. Consumer habits shifted in terms of beauty and personal care and this new way of consuming beauty products is here to stay. The rise of hybrid make-up is further illustrating this new trend. 
According to Euromonitor with their International's Voice of the Consumer: Beauty Survey 2022,  there has been an increase in the share of make-up users wanting product functionalities such as moisturization/hydration (39%), SPF/sun protection (22%) and suitable for sensitive skin (23%) incorporated into their make-up products.
In this article, we will take you through the global trends of the skincare market and its key players to then delve into the case of The Ordinary, a brand we believe disrupted the beauty market.
Global market trends
Globally, the skincare market generated 144 billion USD$ in 2022. And is forecasted to reach 186 billion USD$ in 2028, as reported by Statista. Among beauty and care revenues, skincare is the second most important segment after personal care. The segment represent 27% of the revenue within this category. Within the skincare sector, facial products generate the most revenue with 100 billion USD$ in revenue in 2022.
What are the biggest markets?
Worldwide, the biggest markets for the skincare industry in 2022 , regarding total generated revenues, were the United States, Japan, China, India and South Korea. The United States, China and India are part of this ranking thanks to their substantial population. But also because of their population's disposable income. The United States has higher income earners and China and India both have an ever-growing middle class. Japan and South Korea, as we will see throughout this article, have a long-standing culture of skincare and beauty.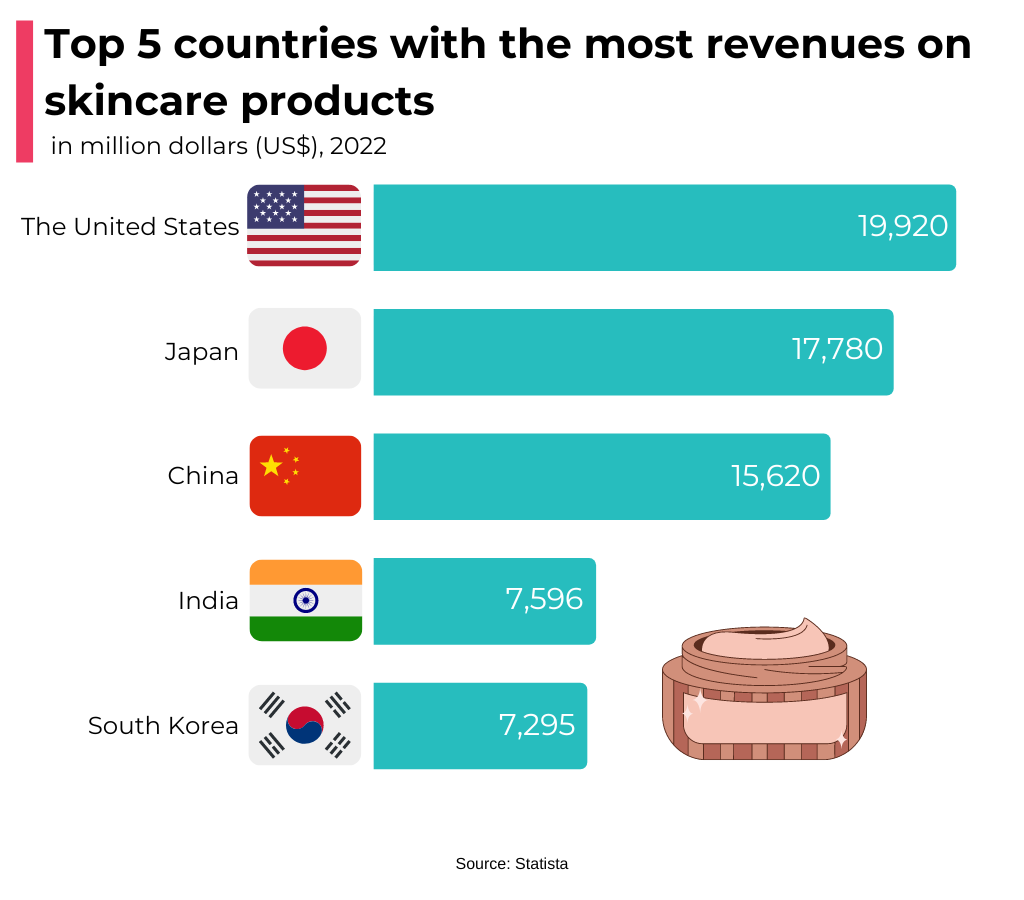 Whose inhabitants spend the most on skincare?
Since countries with large populations are highlighted in terms of overall revenues. It makes sense to supplement this data with per capita skincare revenues.  The two leading countries with the highest skincare revenue per capita are Japan and South Korea with 144 and 141 USD$ per capita respectively. This is not surprising as the inhabitants of these countries have more purchasing power for skincare products, and tend to prioritize this expenditure over others. Furthermore, this corroborates the power of these two countries in this sector. Following theses two giants, Iceland, Luxembourg and Norway take third, fourth and fifth place. The three countries take these spots thanks to their high GDP per capita. Even if their population isn't as large, skincare products can be valued highly in these markets.
How is the market segmented by world region?
The Asian continent is the region that generates the most revenues for the skincare segment. In 2023, this area makes up 47% of total worldwide skincare revenues. As said earlier, beauty is a staple of certain Asian cultures such as Japan and South Korea with Japanese and Korean Beauty. J-Beauty and K-Beauty, as they are colloquially known. Products made their way to European and American shelves and have become must-haves in recent years due to their well-perfected formulas.
The mix of traditional recipes and advanced scientific research has won over consumers around the world. Even both of these trends put a particular emphasis on the formulation of their products, they differ in terms of the results they aim for. K-Beauty is more focused on achieving glass-like skin and has routines of multiple steps to follow. (luminous, unified skin, with no visible pores and as translucent as glass). Japanese Beauty, on the other hand, focuses more on preventing aging and sun damage..
The biggest exporters of skincare products in the world
The ranking of the countries exporting the most skincare products elaborated using HS code 330499 which corresponds to the exports of skincare and sun protection products. South Korea and Japan, which are among the countries generating the most revenue, are also present in the top exporters. This confirms their status as world leaders, both in the domestic market and worldwide. 
However, despite the strength of the Asian markets, France takes the top spot. A country which also has an international reputation in skincare thanks to the dermocosmetics brands sold in parapharmacies. This includes brands such as La Roche Posay or Cerave. Which are both an integral part of the world leader and beauty giant L'Oréal. The term dermocosmetics, a subcategory of the skincare market,  still does not have a legal definition. It refers to skincare products tested in a laboratory and that intertwine dermatological effectiveness against a specific skin problem with the beautification of the skin. France also plays a leading role in prestige skincare products, thanks to luxury groups such as LVMH.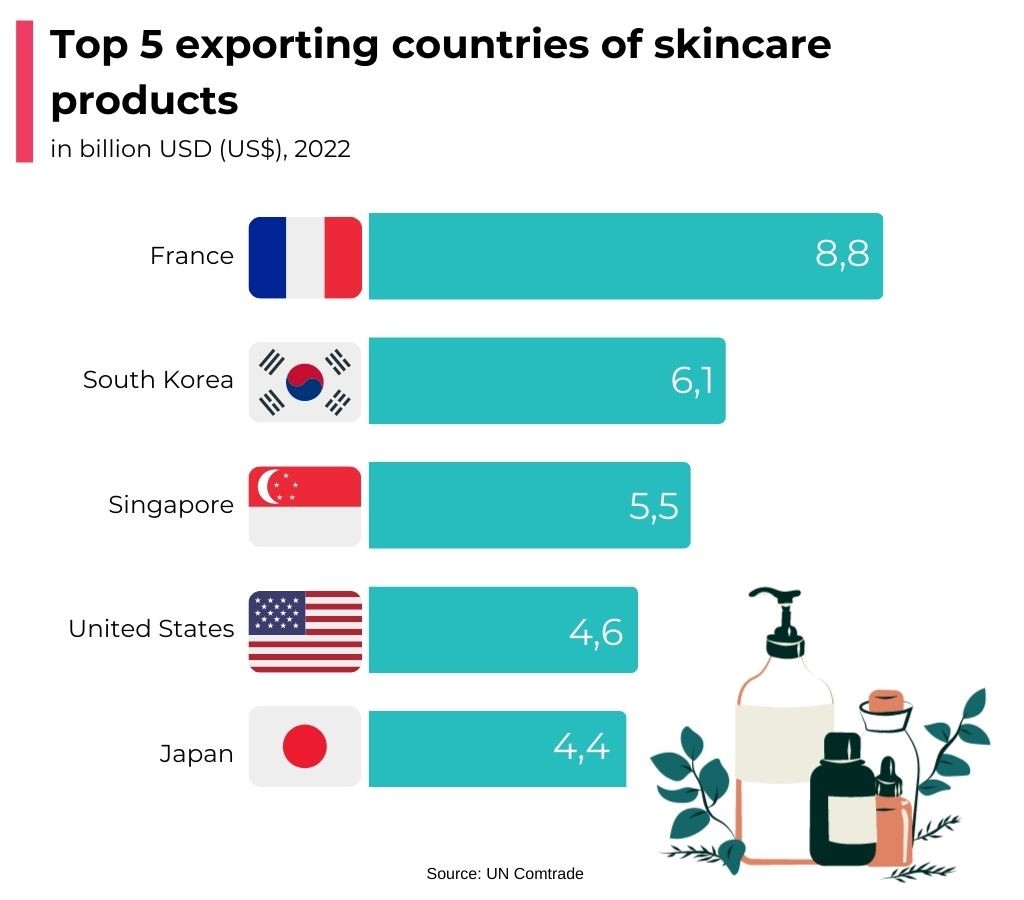 Where do consumers prefer to buy skincare? 
Another tendency that emerged since the Covid-19 pandemic is online shopping. Between 2018 and 2021, the share of skincare products purchased online rose from 11.9% to 21.1%, as reported by Statista. Even though a majority of skincare products are sold offline, we can see that the share of online sales is continuously growing. As lockdowns were implemented, consumers were naturally directed towards online shopping experiences. According to Cosmetics Europe, skincare products are easier to buy online than other beauty products. Because there isn't a compulsory need to try the product. Despite a rise in interest in this sales channel, consumers continue to prefer in-store or hybrid experiences. (where they combine different sales channels). The Institute for Business Value explains that the preferred shopping methods among personal care and beauty products consumers are in-store shopping (50%) followed by online shopping (29%) and finally hybrid shopping (22%). 
Industry key players
The biggest companies of the skincare industry are oftentimes key players of the beauty industry. Generaly thanks to their product diversification with perfumes, make-up and personal care products. Therefore, it is complicated to distinguish overall beauty revenues from the ones that stem from skincare only, as they usually are gigantic conglomerates. Nonetheless, there are some company groups that stand out from the crowd.
According to Statista, with only the three brands Cerave, La Roche Posay and Garnier, L'Oréal possesses 13% of the global market share in the skincare industry. Of the 509 billion euros the beauty market represented in 2022, L'Oréal claims a turnover of 38 billion euros in the same year. This gives an insight of L'Oréal's overwhelming presence around the world. 
The British company Unilever is present in a wide range of sectors, from beauty and personal care to the food industry. Their beauty and wellbeing business unit (including the skincare brands Paula's Choice, Dermalogica and Dove) had a turnover of 12,3 billion euros in 2022.
Estée Lauder Companies (The Ordinary mother company) is also a major player in the skincare field. For the 2022 fiscal year, the American company declared a revenue of 15 billion USD$. We cannot provide the main skincare players without mentioning at least one Asian company. The Japanese Shiseido brand takes the number five spot in the WWD Top 100 Global Beauty Manufacturers. They also operate at an international scale and their net sales were 7,3 billion USD$ in 2022. Skincare products represent 75% of these sales. 
Focus on the Ordinary brand
Founded in 2013, the Canadian skincare brand disrupted the industry. The brand was purchased by Estée Lauder Companies in 2017, four years after it was founded, for 1 billion USD$. The company is adopting an original strategy with products backed by science and not necessarily cosmetics which are considered as natural. This fits perfectly in the clean skincare trends which have dominated the public in recent years. The Ordinary adopts streamlined packaging and a precise, transparent ingredient list. Even going so far as to give the percentage of each ingredient in the product. The brand's signature packaging is a minimalist glass bottle coming with a pipette, which is said to be inspired by apothecary shops.
The "all-natural ingredients" trend being replaced by brand transparency regarding ingredients,  is why The Ordinary has shone. In 2022, a study published by the specialized magazine JEMA Dermatology suggests that 90% of the all-natural skincare products contained allergens that could lead to skin issues. Over the years, certain chemical components were deemed as bad and all natural products were praised. But The Ordinary's philosophy is not to systematically demonize chemical products. Rather, the brand believes that it is better to find a balance with chemical products and use the most effective active ingredients possible while respecting consumer safety. For example, the brand launched the Sulfate 4% shampoo in 2022, to counter the praising of natural ingredients trend in skincare. Now, thanks to companies like The Ordinary, consumers want to know exactly what they put on their skin.
The growth of the brand has also been driven by the new beauty and personal care habits of Gen Z. This generation focuses on skincare. This is the age group with the least people who wear make-up on a daily basis. As stated by Euromonitor, 20% of the Gen Z population do not apply make-up daily. Gen Z's love for skincare is also shown online. The Ordinary was the most followed skincare brand on TikTok in July 2021 with 288,000 thousand followers (now in Aug 2023: 1,1M).
Conclusion
The Covid-19 epidemic, brands and a generational shift have completely reshaped the consumer's vision of skincare and beauty. Buyers are now more focused on achieving healthy skin rather than covering up their blemishes with heavy make-up. This led to a more resilient skincare segment compared to the make-up segment during the pandemic. Globally, the industry is growing more than ever, especially in Asia, its biggest market. The two beauty giants of the continent, Japan and South Korea, have imposed new ways of consuming skincare products globally. Consumers now give importance to efficiency and well-formulated products and do not necessarily search for all-natural ingredients products.