Can you recall the fundamental principles of marketing encapsulated in the 4 P's: product, price, place, and promotion? Among these, the final P—Promotion—holds the responsibility of building awareness and harnessing the curiosity of prospective consumers about your product. Within your domestic market, this marketing facet significantly contributes to your company's triumph and growth. However, the question arises: does your promotional approach possess the aptitude to transcend geographical boundaries? Within the confines of this article, we shall guide you through the requisite stages and provide insights to effectively promote globally your products in international markets.
Market Research
Once you've identified the country with the greatest potential for internationalization with PrimeTarget' Market Ranking services or your own research, the first stage is carrying out a detailed study of the market you want to penetrate. The aim is to understand the demand for your products in different regions, identify target audiences, and analyze the competition. Your findings will enable you to draw up a targeted marketing plan to best reach your target customers. Conversely, consider cultural nuances, language preferences, and local regulations that may impact your marketing efforts. Keep in mind that the variety of legal systems means that a message legal in one country can be illegal in another. For example, Sweden has a total ban on television advertising aimed at children under the age of 12 and direct advertising, such as text messages or emails, aimed at children under the age of 16.
The next step is understanding your marketing channel to reach your clients.
What is the best marketing channel?
Traditional Marketing
Traditional marketing is the use of offline channels to promote your products globally. This includes broadcasting, newspaper, direct mail, magazines or poster advertisements. Through the use of traditional campaigns you can target a very specific audience. This is the case for watching advertisements in fashion magazines, for example. With the development of web marketing, traditional marketing may seem outdated, but some brands are rising to the challenge of modernizing it.
Maybelline's latest promotional campaign for its product, Lash Sensational Sky High Waterproof Mascara is a concrete example of how traditional marketing can be contemporary and innovative. Maybelline adorned the front-end of a Metro with giant eyelashes and various metro stations have installed oversized mascara tube stands. As a result, whenever the metro passes through the mascara tube stands, it creates the illusion of them curling their "eyelashes". Click on the link to see the video.
When developing this type of campaign, the idea is also to create buzz on social networks and transform a traditional marketing campaign into web marketing to reach a large number of people. Maybelline chose the London Underground to create its installations and promote its products to London. A few weeks later, videos taken by tube users went viral, reaching millions of people abroad via digital avenues.
Web Marketing
Web marketing, unlike traditional marketing, is the use of electronic devices to access online tools to reach customers. This type of marketing is a more "up-to-date" version of traditional marketing, which leverages internet communication channels. Methods that fall under this umbrella include newsletters, social media or website content. As part of your international development, web marketing can help you reach your target market remotely, by generating traffic from foreign markets. There are several tools you can use to generate traffic and promote your product globally. This includes online advertising, emailing, competitions, but one of the key factors is Search Engine Optimization (SEO).
When sending your brand internationally, we would advise you to optimize your website for the country you're targeting. It's important to have a different domain name specific to each country or a multilingual website. For example, in Spain: mywebsite.es and in England: mywebsite.co.uk. Your customers will be reassured by this simple change and will feel as though your brand is less foreign. Furthermore, to create a climate of trust, you'll need to offer a secure payment system and clear, appropriate terms and conditions of sale.
To make yourself known, leveraging originality and webmarketing can propel your brand to the four corners of the world. The creation of original content, relayed on various social networks, can reach millions of potential consumers.
Jacquemus, a French fashion label, stands out for its original traditional and web marketing campaigns that go viral. Known for its very small bags, Jacquemus goes the opposite direction in marketing with bus-sized leather bags. The video went viral, and it looked so realistic that Jacquemus had to confirm that it was in fact just a digital 3D render.
Look local to be global
While you don't necessarily have to modify your entire product range to access new international markets, it is important to adapt certain aspects of your business and products to stand a chance of making your first sale. Changes you can make include your website, and its URL, your social networks and your product descriptions. All of these need to appear local to inspire consumer confidence.
Translation
Pay attention to the translation of your products and descriptions. Today, many software programs automate translation and save you time. But beware: if a translation error appears in front of a potential customer, your chances of making a sale plummet. This phenomenon is all the more obvious and consequential when your brand or product name has a different meaning abroad.
Website
Achieving success in your international sales necessitates tailoring your website to suit the target country. This entails precise adjustments in design that resonate with the culture and behavioral patterns of the local "client". For instance, catering to the German market requires a heightened emphasis on providing reassurances, great details in technical description and ensuring effortless access to return and delivery policies, alongside comprehensive terms and conditions of sale.
Additionally, it is important to display prices on your website in the currency of the target country. Moreover, preferred payment methods abroad can vary. It's essential to offer payment methods in line with local habits. According to Statista, in 2022, 55% of French people said they had paid in cash in the last 12 months, while this figure rises to 73% in Germany. Statista also shows that in China, 67% of respondents have used their smartphone to pay for a purchase in the past year, compared with just 28% in Sweden.
Social media
Social media is a tool for companies in their international development. Not only does it bring hundreds of millions or even billions of users to one place, but it also makes it possible to target specific groups according to their demographic characteristics, affinities and behaviors. Social media usage varies from one country to another, and the popularity of the platforms themselves can vary.
Instagram is one of the biggest social media platforms in the world and has over one billion users worldwide. In a 2021 report by Statista, Instagram was found to not have a homogeneous usage rate from one country to another.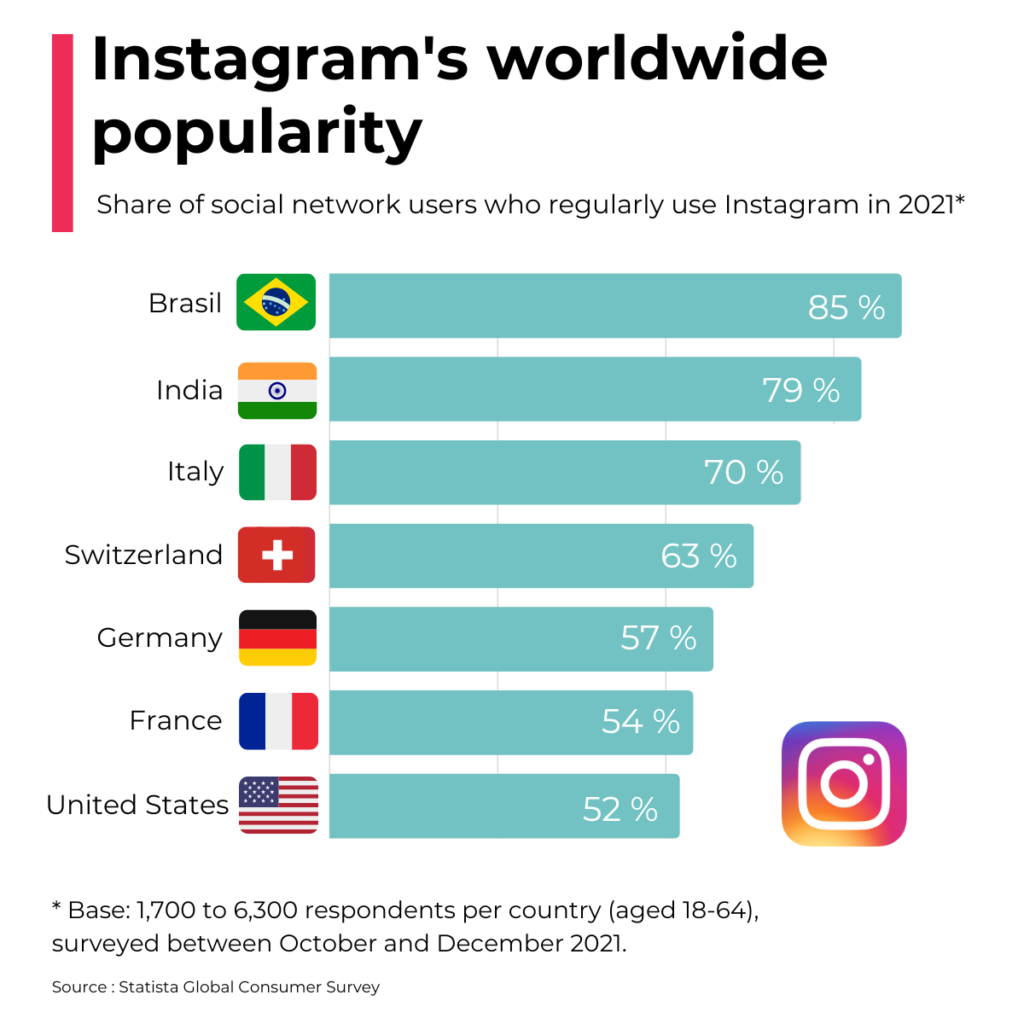 To highlight data from the graphic above, Instagram's rate of use in 2021 was 54% in France and 52% in the United States while it is most used in India and Brazil at a usage rate of 79% and 85% respectively.
Trade shows and local partnerships
Trade shows are well known to marketing departments as great opportunities to promote their product or service. This type of event can be one of the best ways to make your first sale abroad. Trade shows are often specific to a particular industry: agricultural, medical, pharmaceutical, etc. Because of their specific nature, trade shows are also a great tool as they come "pre-targeted". By attending a trade show, you can meet potential customers, partners and keep in contact with existing customers. What's more, your brand image can be strengthened and gain in confidence and popularity thanks to your presence.
However, when attending trade shows, it is relevant to keep in mind that attendees come from all over the world. This makes it important to keep your long-term strategy in mind and only use time to create important relations. This is especially important if your aim is to create partnerships with local players. Creating partnerships with local companies can be beneficial to the development of your business at the local level. Creating a relationship of trust with local companies can take a lot of time and resources as they can involve business trips abroad and a significant initial investment to get local distributors up and running efficiently.
To continue on partnerships, in the age of webmarketing, more and more companies are looking for local partnerships with digital influencers. The persons in this category are thought leaders on social media with loyal followers. Their job is to create content and grow their community. Tao Liang is a Chinese influencer who specializes in handbags. His community can be found on China's well-known social networks, WeChat and Weibo. Tao Liang is known as "Mr. Bags" and has already collaborated with several foreign handbag manufacturers, including the MontBlanc brand. Posting content on WeChat for a limited-edition MontBlanc handbag generated 3.24 million RMB (nearly $500,000) in handbag sales in just six minutes.
Measure your marketing efforts
Remember to gauge the efficacy of your marketing endeavors. Thoroughly analyze each campaign to enhance the influence of forthcoming initiatives by discerning which marketing approach proved most instrumental in generating substantial leads.
Through implementing Google Analytics, your website becomes an important source of data: you can find out how many people visited your site, how long they stayed and a variety of other specific data which can help in your decision making. The same applies to social networks by understanding the evolution of the number of likes, followers and shares your content gets into consideration. If you see a growth in these indicators, then your reputation is likely growing on international markets.
It's equally important to monitor your SEO. You need to make sure that your keywords are well positioned in searches. One of the most popular tools for measuring SEO positioning is Google Analytics. It enables you to track your website's traffic and statistics. The Google Search Console also allows you to understand how your website is positioned in the search engine.
Key Takeaways
Promoting your products internationally is not a simple task. It all starts with market research to analyze the specific characteristics of your target country. These are the first lines of your marketing strategy. Several avenues are then possible, including traditional marketing, web marketing or a mix of both! Your originality and ability to local markets will be key factors in your success.
Conducting an external market analysis is undoubtedly crucial; however, a comprehensive understanding of your internal capabilities and competencies is equally vital for successful market entry. This necessitates undertaking an internal assessment. While financial prowess is frequently given precedence, the proficiency of your teams in languages, marketing, and business development holds paramount importance in determining the triumph of your endeavor.
Prime Target can accompany you in your international business project, and assist you in market potential evaluation. Prime Target's Market Ranking Report can help you evaluate the market potential of 5, 10 or 20 countries simultaneously, and identify new export markets with the highest potential. This comprehensive and personalized Market Ranking Report can minimize risk, saving time and money, as well as identify new business opportunities abroad.